Hello and many thanks for reading this week's news. It starts off with some important news and then we are very excited to share more amazing news from our classrooms (even though most news is from places that children have visited this week to enhance their learning outside the classroom).
Vapes
As I am sure you are aware, vaping has become a common thing for children to see when not in school, whether this be at home or when at the park or shopping. We are aware of incidents coming into school, where some of our older children have reported finding disposable vapes. This is obviously very concerning and I wanted to bring it to the attention of all of our community. This will obviously be monitored closely in school and any reports shared with parents/carers as appropriate. We will be spending time with our older children to examine what a vape is, what chemicals are inside and why they are not suitable or appropriate for our children.
Attendance Matters
A big well done to class 7 who have taken the lead in the attendance table this week and now have the highest average attendance since September.
This week's highest attendance goes to class 14 – well done to them.
School attendance to date remains below our target of 95%+. As of today, our school attendance is 93.21%.
Whilst we recognise there are many bugs going around at the moment and that attendance at school can sometimes not be possible, school is monitored for our attendance. Unsure when to send your child to school? This may help… https://www.nhs.uk/live-well/is-my-child-too-ill-for-school/#:~:text=If%20your%20child%20has%20mild,have%20a%20high%20temperature
On Wednesday of next week, I will be meeting with our safeguarding and attendance team. If your child's attendance is below 90% at this point, you will receive communication from me to alert you to this and that attendance will then be monitored for improvement from this point.
Should you need any assistance with your child's attendance, please contact school and speak to Mrs Lisa Roberts.
Football Update
A big well done to our boy's team who played on Tuesday night. A 0-0 draw with Seamer was followed by two consecutive 1-0 victories against Overdale and Braeburn. It is the turn of the girls tournament on Saturday morning. They will be playing at George Pindar from 10am to 1pm.
Following this, there will be no more matches until at least March where we will aim to arrange as many fixtures as possible for the children to take part in.
Netball Update (Thanks to Mrs Barker)
What a wonderful afternoon of netball! Brilliant performances from all, especially, Ava, Cooper, Kyle, Evie, Isla and Natan who have never played in a netball tournament before. Here are the teams and their scores.
Pink Team:
Ava, Beth, Cooper, Evie, Isla and Kyle
Purple team:
Annalise, Brodie, Charis, Freyja, Natan and Thea
 Scores:
Pink Team v Newby Scalby 2nd Team         7-0
Pink Team v Lindhead                                  6-0
Pink Team V St Martins  1sts                     0-2
 Purple Team v St Martins 2nds                   0-1
Purple Team v H &Vale                                 5-0
Purple team v St Martins 1sts                     1-3
We were so excited to play; we desperately wanted another match, but all the other teams left. Well done Northstead, your love of netball and your determination to succeed really made you shine today! I Can't wait for the next match!
 Pupil Voices:
On Thursday after school 2 teams from Northstead went to play a netball tournament at St Augustine's School. I loved the tournament and there were 10 teams of year 5 and 6 pupils. We got to play lots of different teams. Unfortunately Northstead had a small disadvantage, most of the other teams were really tall! It was so much fun, I would love to do it again. We had a great team and everyone tried hard. (Charis)
The tournament was really fun and energetic. I enjoyed representing the school and I think we worked well as a team. The feeling of winning and losing is good for us and its okay to win or lose so long as we do our best. I was proud of us all for playing as well as we did, even if we lost a few matches. (Beth)
I really enjoyed the netball tournament, and it was fun. I especially liked when we did our second match, it just felt good. I just enjoy playing, I would have liked to have done another match though. I think all the teams worked well together. I enjoyed who I was working with.  (Freyja)
Staff Update
This week we welcomed Mrs Todd to school. Mrs Todd joins us as a teacher in Y6 and will be working with Mrs Marsden in class 20. Having already been in school to work with the Y6 team and having attended the recent teacher training day, Mrs Todd is settling well into school and getting to know the children and community of Northstead very quickly.
What's been going on in school this week…..
This week we have enjoyed our visit to the SSEW event at the Spa where children experienced hands on activities about future job opportunities8 in science, engineering and maths. Class 20 certainly got stuck in and involved in as much as possible, as you can see from the photos. We watched a science show in the theatre then had time to explore as many companies as possible. An inspiring learning day out of the classroom.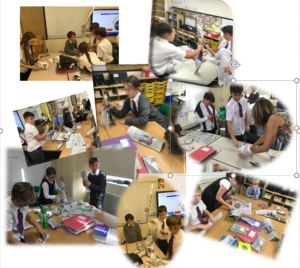 What an action-packed week in year 5!  In writing we became news readers and recorded our news reports about Philippe Petite walking between the Twin Towers. These will be printed for the children as QR codes so they can share their roleplay with you at home! In maths, everyone has worked hard in learning about multiples, common multiples, factors and common factors. Can your child tell you about this learning at home? We have started to make our bags in Design and Technology and will finish sewing them next week.  Class 17 built some amazing structures in PSHE while thinking about teamwork. They learnt about how roles and rules can help when working together.
Geography
This week, Year One enjoyed a walk in the local area. We loved following our maps and spotting different types of houses and amenities. The weather was perfect and enabled us to look for signs of autumn too.
Food Technology
Today, Year One visited the school kitchen to make fruit skewers. We chopped and prepared the fruit ourselves and had fun bringing our designs to life. We can't wait to eat our fruity creations!
This week Year 4 have finished their Place Value learning and begun a new writing unit, inspired by the book 'The Mermaid of Zennor'. We have also started to read the narrative poem ' The Pied Piper'. One Year four class has had their rivers learning come to life this week, by having a wonderful visit to Danby Moors Centre, where the ranger was impressed with their river knowledge. The other two classes have their cultural capital day on rivers, next Wednesday. Well done this week Year 4, and especially well done to Class 15 for being the TT Rockstars winners.👏
This week EYFS went for a walk around the school grounds looking for signs of autumn. We noticed all the beautiful colours, smells and patterns in nature. In our maths lessons we used the items we collected to create our own patterns.
Year 2 have had a very exciting week! We had a fantastic trip to York as part of our geography focus on cities. We explored the beautiful city in the glorious autumnal sunshine. We spotted tall buildings, double decker buses, a much busier environment and so many more signs of city life.
We really enjoyed our visit and cannot wait to debate whether we would like to live in a village, town or city!