Well done to our Governors!
This week, we were visited by our school education advisor to audit the work our governing body do for our school. Having received a verbal report on this, I am writing to say a big well done to the team of volunteers who make our governing body. We have been left with a few actions to improve and as always will act on these with haste to ensure we continue the improvement journey the school is on.
Our governing body is made of Mrs Jackie Laybourn (Chair), Mrs Jane Koszykowska (Vice-Chair), Sarah Bone, Jackie Smith, Rebecca Richards, Daniel Abell, Daniel Trainor, Jody Marson (Staff governor).
Information on our Governing Body can be found here https://www.northsteadprimary.co.uk/governors
EYFS Home Hut Update
With many thanks to Mr Marsden and Mr Green, our EYFS home hut, having been destroyed by the wind last week has nearly been fixed. We can't say thanks enough to the two gentleman who have given their own time to fix this up so it can be used by our youngest children again. This is the community spirit and care we are aiming for with our school. Many thanks!
Attendance Matters
This week's winners are 4WV (98.71%), 6JH (98.0%) and 1HS (97%). With a whole school attendance this week of 94.52%. This improves our 22-23 attendance average to 93.09%. Attendance has improved since returning from the Christmas break. Thank you so much for your support with this.
NEU – Industrial Action
As you may be aware from the news, members of the NEU have voted for strike action with the first day planned being 1st February. As I write, we do not yet have notification on how this will affect our school. Once I have all the information I need, I will share via email and class dojo any changes to the school on this day with you all.
NASUWT and NAHT also voted for strike action but did not reach the required number of votes from their members to take action.
Vacancy – Cleaning Operative – 17.5 hours per week
Information on this post can be found here https://www.northsteadprimary.co.uk/vacancies
We are looking for someone to join the hardworking and dedicated cleaning team who make sure our school is safe, clean and always ready for the children and staff. Are you that person!
Why are we there in the morning? (Park considerately and with the safety of all children in mind)
Every morning, you will find members of the leadership team at the gates, opening and closing and greeting everyone as they arrive. This is in place to allow everyone to alert us to anything that needs communicating and to offer a friendly welcoming face to the children and adults. My staff are not there to patrol the roads and are not responsible for where people park on Maple Drive and the surrounding area. Parking is the responsibility of every member of our community. If you are parking in a dangerous place, on zig-zags or across a residents drive, please consider the impact your actions could have on a child or adult who attends Northstead. We are a community who deserve to feel safe. Please help us by helping each other.
Should you feel it necessary, you are able to report a parking problem to Scarborough Borough Council by following this link https://www.scarborough.gov.uk/home/parking/parking-enforcement or by calling 01723 232489.
Martin Luther King – PSHE – Dreams and Goals
In assembly this week, children were introduced to Martin Luther King and discussed how his own actions and his own dreams led to big changes in the world.
5 Sentence Writing Competition
Many thanks to all 47 children who entered last week's writing competition. The standard of work brought in from EYFS to Y6 was excellent. All children who entered will receive a dojo point for their hard work at home. Some children will receive further recognition in school next week. There is no writing prompt this week. We will set a writing challenge every two weeks so please look out for next week's challenge!
2LP – Christopher Columbus Writing!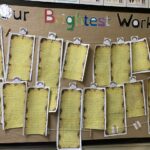 2LP have been learning to edit their own writing this week; fixing spelling mistakes and punctuation. They then created a final copy of their letters from Christopher Columbus describing his discoveries.
3RW have made us so proud with their creativity this week in art.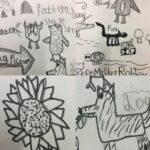 🌟We have been practising our drawing skills (cross hatching, stippling and use of pattern)  and exploring the work of 'Animators' ready for our new art project, which is all about 'Animation'. We have enjoyed looking at Steve Kirby's moving drawings and talking about what we liked about them!
🌟You can see that already, we have some budding animators in class 3RW 🤩 Well done!
EYFS – Enterprise Cafe
Our EYFS children had a very exciting day on Thursda as they welcomed their parents, carers and families into school for their 'enterprise cafe' fundraising event. The children all took on roles such as chefs, greeters, waiters/waitresses, money collectors and cleaners to serve and provide refreshments for the grown ups.
We would like to say a huge thank you to all the families for their amazing generosity when buying the refreshments and raffle tickets and a huge thank you to Mr Grant of Crofts confectionery for his amazing donated prize of a chocolate workshop that the children sold raffle tickets for.
Well done EYFS, we have lots of budding caterers in our midst.