Attendance Matters
Well done to class 5 who were top attenders again this week. Unfortunately, no classes with 100% this week and so the prize tub remains in my office! Which class will get 100% next week!
Learning Journals
Learning journals have been handed out today. We look forward to seeing all the children's creative home learning. Please come and show me your learning journals so I can celebrate how amazing they are!
NYCC Visit – Safeguarding
This week, we were visited by Lis Marsden, our LA advisor. Lis spent the day auditing and investigating our safeguarding policies and procedures in school. Lis left school reporting a very positive picture of our safeguarding policies and systems we have in place. Our safeguarding of children is effective.
Lunch with the Headteacher
One lucky star of the week winner this joined myself with a few friends for lunch today. Thanks to Tia, Addilyn and Esther for an entertaining lunchtime (and the yum yums they brought from Cooplands). Every week, our star of the week winners get to spin the prize wheel… Who will win star of the week next week and get to spin the wheel?!
Superstars of 2022-2023
We have taken delivery of our superstar board for the children who achieved 100 dojos in 2022-2023. This will soon be on display in school… Who will earn 100 dojos this year and get their name on the Superstar board for 2023-2024.
What have we learnt this week…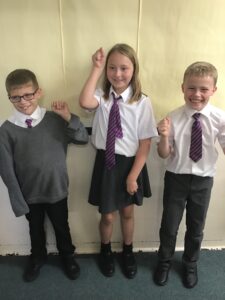 Year 4 have had another fantastic week! We have finished reading our class book, 'Tar Beach', and have used lots of drama to jnspire our excellent letter writing! The children have also loved practising our 2 and 5 multiplication and division facts and square numbers in our Number Sense lessons. We can already see a massive improvement in recalling these facts!
The highlight of our Week has been our first TTRockstars Battle between all three Year 4 classes. We are all so proud of the effort,  determination and enthusiasm of all of those children who took part, in order to win an extra playtime for their class. Well done everyone! 🙌
A HUGE
congratulations
to Class 15 who were crowned the overall winners!!! We'd also like to give some special shout-outs for a brilliant effort from Daisy in Class 15, who achieved the top score, followed by Stevie and Matthew in Class 13. Super, super proud! 
We look forward to the next upcoming battle! 
———————————————————————————————————
In Year 6 this week we have been immersing ourselves in our book – The Arrival. We have been using a range of vocabulary in our writing, including adverbs and idioms. The photos show our origami bird making session linked to our book.
—————————————————————————————————————————————
In Year 5 this week, we have played the role of Mary Jackson, a black woman who petitioned to learn in an all-white school in order to join NASA/NACA's engineering team. The children have produced some wonderful memoirs about her struggles and achievements. 
In design and technology, we continued our sewing knowledge from year 4 by learning some new stitches.  The children are all making their own bags this term, which they will share with the other classes during a fashion show! 
In maths we have been rounded numbers up to one million. We enjoyed sharing the story, ' How Many Jelly Beans?' which gave the children a visual representation between 1 and 1,000,000 jelly beans!
---
In our Year 3 DT lessons we have been practising using folding techniques to strengthen materials. We made corrugated paper and tested what objects were too heavy to balance on top.
---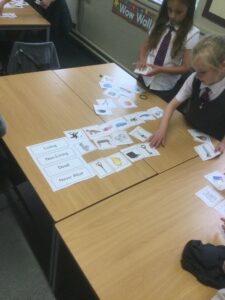 In science this week, Year 2 have been identifying if objects are alive, dead or never alive. They worked well as teams to sort their objects into these categories. This activity created some interesting discussions.
We made the most of the windy weather this week and set about making kites! We thought carefully about how to attach the materials and as the rain came down, how to make them waterproof!