Autumn Term Week 4 comes to an end and writing displays around school are beginning to take shape, showing the amazing writing which is being developed through our new writing approach from 'The Literacy Tree'. For more information about the Literacy Tree please click here https://literacytree.com/
Football News – https://www.northsteadprimary.co.uk/fantastic-football-v-gladstone-road
Attendance Matters
Well done to class 4 for having the highest attendance this week (98.33%).
Well done to class 3 for having the highest attendance overall this year with 97.94%
Every day at school matters and every day at school counts.
Y6 SATS Information Evening
Many thanks to the parents and carers who turned up to our informative Y6 SATS information evening on Thursday night. This will soon be available on the school website (in the curriculum section)
Packed Lunches
We have noticed some packed lunches containing packets of sweets recently. Please do not provide your child with sweets in a packed lunch. Healthier and more nutritious snacks are preferred. Please keep the sweets for out of school time.
Parking Problems Persist
Last week, you may have noticed the police presence at the end of the school day. Parking on zigzags is not permitted during school hours. It endangers children and is there to allow children and their families a safe place to cross. Please respect our community – do not park across dropped kerbs or resident's driveways. KEEP CHILDREN SAFE!
Y1/2/3 Assembly
Today, we looked at British Values in our PSHE assembly. Discussing with the children the values of Democracy, Individual Liberty, The Rule of Law, Tolerance and Respect. We then read the story, "The Proudest Blue'. This can be watched at home here, https://www.youtube.com/watch?v=cfmc_llybcU
Don't forget..
Next Friday (6th October) is an INSET day and so all children will not be attending school. Teachers and HLTA's will be working in school with writing specialists from The Literacy Tree.
EYFS News – Watch out – Pirates About…
Ahoy there me hearties! To launch our focus text 'Captain Sparklebeard', we all imagined we were pirates for the day! We had lots of fun dancing, singing and searching for treasure, but thankfully nobody had to walk the plank!
News from year 4
This week Y4 have been learning all about the river and its features. We have drawn a river and labelled all the parts. See if the children can remember any. Some included vocabulary such as: meander, confluence, mouth and source. We looked at the river Thames and watched a video of all the places that it passes. It was more than just London! Next week we will start to look at world rivers.
Year Three News
Class 12 have been gardeners this week, planting seeds and setting up an experiment to see which conditions are best for seeds to germinate. Shout out to Milly for her fantastic home learning of a plant! The children have also been helping Francoise the frog to learn some new vocabulary, which they have then used to improve their own story writing this week. Great work team!
Year 5 News!
This week in science, Year 5 have been experimenting with materials – how many dictionaries can a bag hold? Class 16 experimented with paper, thick plastic, thin plastic, a bag for life and material bags. Next week we will compare our results and check whose hypothesis was correct.
On Monday, we found a backpack in class containing a hard hat, diary, rope, balls and pictures. We learnt it belonged to someone called Philippe Petit. Can your child tell you what the pictures were of, who he is and why he is famous? Class 16 have already created some amazing pieces of writing linked to Philippe.
In Geography, we enjoyed learning about the layers of Earth. Can your child remember them? We started to think about the Earth's layers in relation to natural disasters. We discussed volcanoes, which we are excited to carry on with next week.
And year one…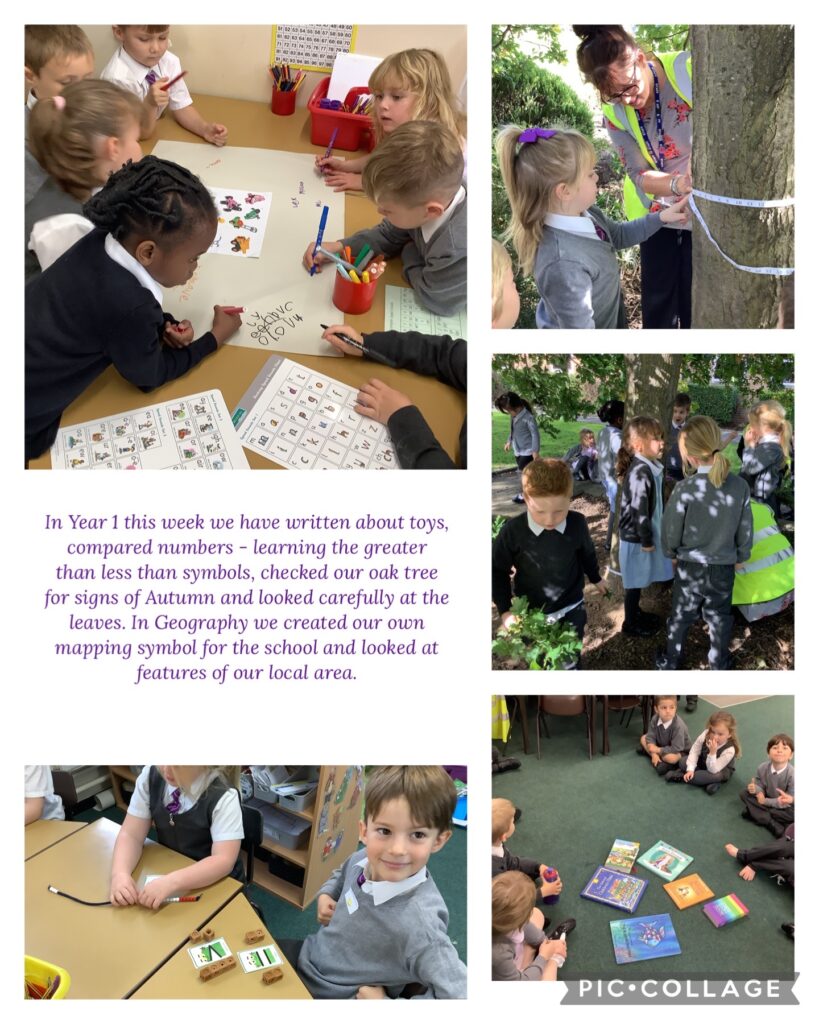 Year 6 News…
Today we had some very enthusiastic writers come to visit Class 21.  The children from Class 8 (Y2) shared their written work about Goldilocks with us.  It was amazing to see how keen they were to share their work with us and what terrific writing they had.  We then shared our writing books with them.   
Thank you, Class 8.   
And finally Year 2…
Class 9 have thoroughly enjoyed looking at different kinds of maps this week to find out the difference between town and village. There was lots of amazing discussion and interest into what they could see and recognise.
In PE we had great fun learning to be attackers and defenders; working as a team and working collaboratively.