After a very successful school fair last Friday (we raised over £1,000) we have enjoyed a fun-filled week at Northstead. It has been an absolute pleasure to welcome parents and carers into our school to enjoy our EYFS, Y1 and Y2 performances recently. The children and staff have worked incredibly hard to put the shows together and I have been so impressed by every show I have had the pleasure of watching. Christmas lunch today was a lovely festive treat for school and enjoyed by all.
Well done to Peasholm House – House Point Winners for the Autumn Term
Peasholm house celebrated having the most house point tokens with a celebration afternoon of crisps, popcorn and a movie. The children enjoyed watching Shaun the Sheep. Which house will be the winners next term and enjoy a disco in the hall?!
Attendance League Table – Week Ending 9-12-22
Top Attendance this week – 6EW – 96.56%
1st Place – 6EW          90 points
2nd Place – 6JH        74 points
3rd Place – 6NG / EYRR       73 points
5th Place – 2LP        72 points
6th Place – 5ES         63 points
7th Place – 4JO       62 points
8th Place – 4WV / 5MY       59 points
10th Place – 3RW       53 points
The house with the highest attendance next week will win 5 house point tokens for their jar!
Stay and Learn Sessions
Many thanks to all of our parent and carers who braved the cold, wind, ice and snow to attend our stay and learn sessions over the last few weeks. We hope you enjoyed learning alongside your children.
In 6PL, parents took part in a real year 6 maths lesson, where they had a go at completing a Magi-Mixer challenge and a retrieval grid. We looked at long multiplication and division and it was definitely a great way to show the adults in the class the expectations for the end of Y6.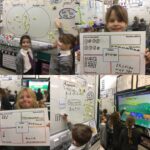 Year 3 loved inviting the parents into class 3RW this week for their stay and learn. They enjoyed sharing their learning about multiplication. Some children showed off their speedy recall of multiplication facts, either on TT Rockstars, or with a times table check challenge. It was great to see some children representing times tables by drawing and making arrays, skip counting or repeated addition. Creativity and resilience was shown when making times table fortune tellers to practise recalling multiplication facts! Finally, children showed how they can use their learnt knowledge to solve multiplication and division word problems! Wow! Well done Team 3RW (Parents too!)
Year 2 Trip to Ebenezer Baptist Church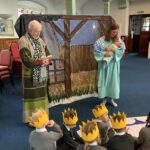 Year 2 enjoyed a trip to Ebenezer Baptist Church for a Christmas Labyrinth Experience,  provided by Faith in Scarborough schools.  The nativity was brought to life via an interactive journey around a Labyrinth,  meeting different characters from the story along the way.
Year 6 Learning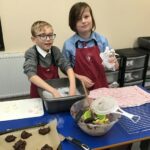 Year 6 made whoopie pies linked to our North American work this term.
Christmas decorations – designed and made (sewn) by the children.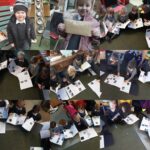 Early Years WOW Stars and Achievements
Class EYRR loved sharing their learning journals with each other. They were so excited to see all their wow stars and achievements and it was great to hear how proud they were of each other 🙂
Choir Performance
We are busy arranging a performance by our choir and hope to get details to you asap. As well as performing on Sunday at Queen Street Methodist church (2:30pm), we are also hoping to arrange a performance in school. This is likely to be on Wednesday at 3:30pm but will be confirmed on Monday.
PARKING – Respect our residents. 
Please respect our community and DO NOT park across driveways or dropped kerbs. Our residents have the right to enter or exit their own driveway or garage.