Well, what a week and where to begin…
It has been assessment week in school. Children have showed grit and determination to be the best they can be in their reading and maths assessments. The children have also completed writing assessments recently. We will have a full school overview of achievement by the end of next week. This will help us to plan learning pathways in reading, writing and maths and enable us to see where we as a school need to make further improvements to enable your child to make further improvements.
How can you help at home?
Listen to or read with your child for at least 5 minutes every day
Use www.ttrockstars.com to get better and faster at times tables (Currently KS2 only)
Use www.spellingshed.com to get better at spellings
Use the information from your child's end of week story on class dojo to revise learning or prepare learning for the week ahead
Give guidance and support to your child when they are completing their homework.
Together, we will make a bigger difference to your child's education at Northstead.
Children In Need
Last week we held our 'Reet' Big Biscuit (or cake) bake off for Children In Need. I am glad to report we made an amazing £261.03   Thanks to everyone for their donations and their biscuit and cake making!
England, England, England! 
We started the week with a thumping victory for England at the World Cup. A lot of staff and children gathered in the hall to watch the World Cup together and enjoyed a great 6-2 victory. It was great to see the children shouting, cheering and celebrating together!
Festival Of Lights Day
On Wednesday, we enjoyed our Festival Of Lights day in school. A day where we learn all about how light is used to celebrate in many different religions around the world.
Children across school designed their own candle design. Candles are used all around the world to bring light to people and so are an important part of festivals.
Year 6 designed and made their own advent wreaths. Big thanks to Mrs Mitchell for sourcing all the foliage and taking her own time to ensure this wonderful opportunity was available to our Y6 children.
Our Penpals – 5MY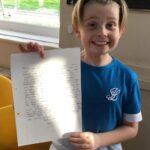 Class 5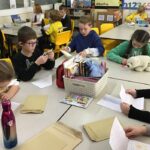 MY received their first letters from their AgeUK penpal this week. What a joy this was! The pure delight and excitement on the children's faces as they discovered who their penpal would be filled the classroom.
We have a range of pen pals; one is 90 years old, another half Greek, another who has had an engineer career and some children received a picture or drawing made especially for them. We feel so honoured to have such an amazing community and be a part of this experience. Next week, we will reply to our pen pal, sending a Christmas card and picture to hopefully put a smile on our pen pal's face, like they have done for 5MY!
Sewing Skills at the ready in 2LP…
2LP have enjoyed getting into the Christmas spirit making decorations to sell at the school fair. The sewing was a bit tricky, but our resilient learners never gave up. We can't wait to see the finished article.
Next Friday – Non-Uniform Day
Please note that next Friday we are kindly asking for a donation of:
– a tombola item or
– a present for our wrapping station
Wrapping station presents should be presents suitable for adults to open. The wrapping station is where children choose a present and wrap it to take home for their parent or carer.
Please note that non-uniform days do not mean that children can come to school wearing additional jewellery or make-up.
Thanks for your continued support.
Flu Vaccine
The School Age Immunisation Service will be visiting your child's school on 5th December 2022 to deliver the nasal spray flu vaccine.
Please ensure you have completed the online consent form for your child to receive this vaccine.Your child will not receive this vaccine without a valid consent form.
Your consent portal will close on 28th November 2022
Access the consent link here:
https://www.hdftsais.co.uk/
School code: HD121321If you have any problems with completing the online consent, please contact the Immunisations Consent Team on 03000 032554
For more information on the flu nasal spray vaccine please visit:
https://www.nhs.uk/conditions/vaccinations/child-flu-vaccine/
Have your say
In September, we will be moving to a 32.5 hour week in school. Please follow the link above and choose the option of your choice for this. Should you have any further comments about this, please send them to school for the attention of Miss Bates (school office) by 1st December 2022.
I wish you all a great weekend and hopefully enjoy England winning again tonight!
Mr Hopper
Headteacher