What a great week, a week which began with Anti-Bullying Week 2022 and with us sharing our Anti-Bullying message in assemblies, wearing our odd socks to celebrate our differences and then ending the week with our 'Reet Big Biscuit Bake off.
At Northstead we celebrate our differences and what makes each of us unique in our community!
In Class EYRR we introduced anti-bullying week with a tales toolkit session. The character was Ben, he was feeling disappointed and downhearted because someone had repeatedly hurt him. The setting was a bookbag which we decided meant a school setting. The problem was a little girl called Floss. She was hurting Ben over and over again. We discussed the key words "repeatedly" and it linked to our repeated patterns in Maths. We discussed the difference between an unkind choice and jigsaw Jenie brought the word "bullying" as it was repeating. We had alot of discussions about the difference between bullying and an unkind choice.
We decided the solution could be for Ben to tell someone. " Talk, share and tell a friend or a grown up."
In year 6, the children spent time considering what abuse is as part of anti-bullying week. Exploring child on child abuse and anti-bullying is an important part of the curriculum at Northstead to ensure all children understand what is and is not acceptable behaviour towards each other.
Also this week….
A week where Y5 have taken our 'Community' value and have worked with an organisation called Keep Scarborough Tidy to complete a 1 hour litter pick around Northstead and Peasholm Park. Mick Couzens of Keep Scarborough Tidy has praised our children highly for their excellent attitudes to looking after our local community.
On Wednesday we welcomed potential parents into school during the morning and then after school where they spent time with Mr Hopper and  Mrs Wilson before being given the chance to explore the EYFS area of school.
This week,  Year One have experienced their first food technology lesson of the year! This afternoon, 1JM enjoyed working together to make Autumn themed biscuits. Using autumnal colours and cutters, the tasty treats were shaped as leaves from a variety of different trees. This linked with their current leaning in science. Tomorrow, the class will taste and evaluate their biscuits before taking them home to enjoy (and hopefully share!).
Friday – Children in Need Day and the 2nd Annual 'Reet Big Northstead Biscuit Bake Off'.
We welcomed our amazing children into school who were all looking very 'spotacular'. We used Children In Need to explore how we can further help in our 'community' and why working together for the good of everyone is important for us in terms of our own responsibilities. We had an extraordinary number of entries to the 2nd Annual 'Reet Big Biscuit Bake Off' and were able to choose eight winners – each of whom walked away with a book of their choice.
Well done and thanks to everyone who entered and spent time making the biscuits and cakes. We had so many cakes and biscuits we had to reopen the bake sale in the afternoon!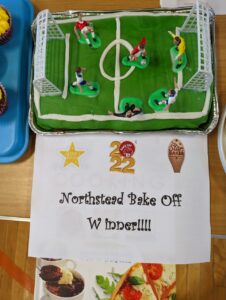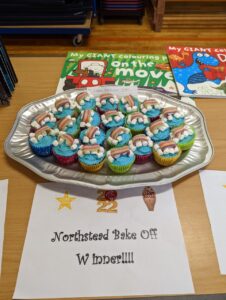 Thanks for another great week as the Headteacher of our wonderful community school. Watch out for details of our Christmas events coming home soon. FONS were finalising details for our Christmas Fair and details will come home next week about this.
Mr Hopper
Headteacher